PUNJABI WOMEN'S WRITING GROUP
'Apni Prithvi - Sadda Kal' (Our Planet – Our Tomorrow)
Publication and Submissions Details
Funded by Creative Black Country – Creative Connects
Punjabi Women's Writing Group
'Apni Prithvi - Sadda Kal' (Our Planet – Our Tomorrow)
Publication October 2023
To be edited by Kuli Kohli and members of the Punjabi Women's Writing Group.
We intend to produce an anthology of poetry and prose on the theme of recycling starting from home (a small A5, 32-page pamphlet). This will be showcased with a public performance from the PWWG and participants who would like to share their work from the anthology.
There will be a performance in each location of the Black Country where workshops have been composed.
To this end poets living in or with strong links to the Black Country are invited to send their work in from 1st August - 8th September. Please do not send after this date.
We'd be interested to see well-crafted contemporary poetry and prose on a variety of subjects and from different perspectives on recycling & reusing and the effects of global warming starting from your own home.
Submission Details:
Submissions are free and should be sent by email as an attachment to: kuli.kohli@hotmail.co.uk Please make sure your name and contact details are included in your email and on the texts.
A maximum of 4 poems or up to 25 lines of prose may be sent in. Suitable poetry and prose that's previously been published will be considered so please give details with the submission.
If you haven't heard from us by the end of October, you can assume your submission has not been successful. Don't be downhearted if your work isn't selected as there's likely to be much competition. No correspondence will be entered into, however, and the editors' words are final.
If your work is accepted, you will be given a free copy of the anthology and invited to participate in a celebratory reading in your area.
We look forward to reading your poetry and prose.
Thank you to our regular members and performers:
Kuli Kohli - Group Leader

Santosh K Dary

Priyanka Joshi

Parveen Brigue

Nirmal Orjally

Kirti Patel

Kom Achall - Our Artist & Photographer
Punjabi Women's Writing Group
All women of South Asian heritage are welcome to join us, especially if you live in the West Midlands.
The Punjabi Women's Writing Group was set up in May/June 2018. This writers group is dedicated to Punjabi Women in Wolverhampton, Also we have established a new writers' group dedicated to Punjabi Women in Wolverhampton, which I run on a chosen day in the last week of the month on zoom. We do not have a specific time due to members not being available for a timed slot. However, I will let members know the details in advance via our WhatsApp group, For more information about the Punjabi Women's Writing Group please contact me.
Over the last three years we have had successful writing workshops and local performances in Wolverhampton and Ironbridge that have sparked up a lot of interest. For more information about the Punjabi Women's Writing Group please contact me on email: punjabiwomenswritinggroup@outlook.com
Sangat TV invited Kuli Kohli & Santosh K Dary to talk about the Punjabi Women's Writing Group.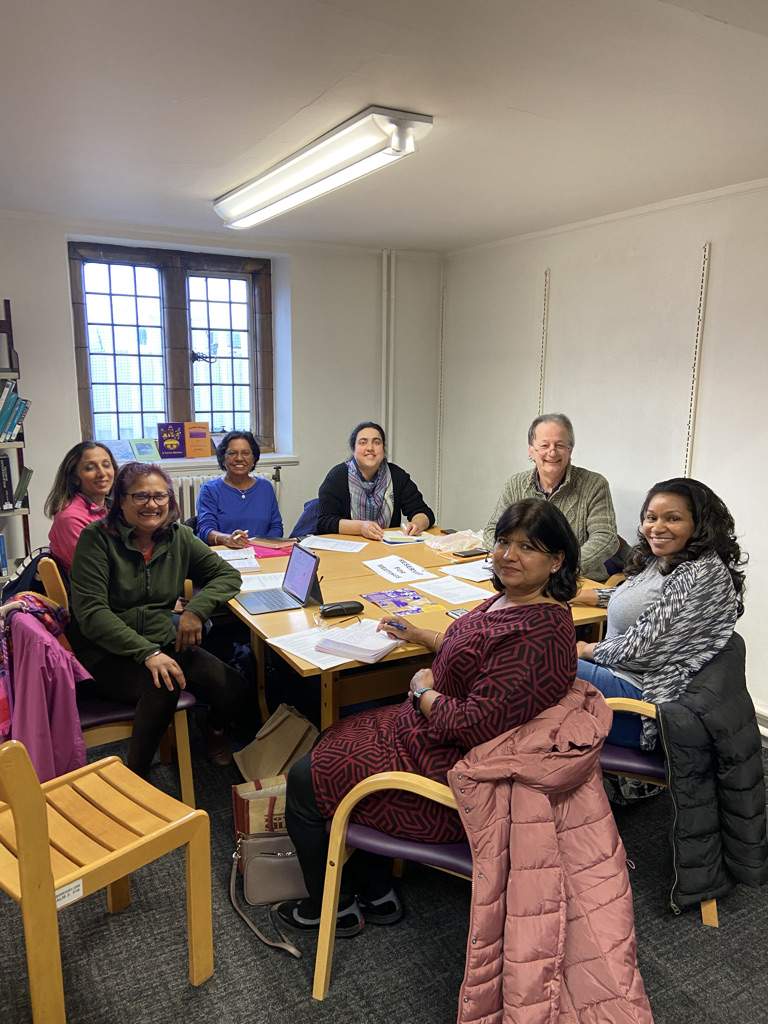 In our March 2022 session, we invited Simon Fletcher to lead our writing session on cross-cultural writing and building bridges with our writing and poetry.